BirdWeb: Seattle Audubon's Guide to the Birds of Washington State
Bird of the Week
Vaux's Swifts do nearly everything - except nest and roost - on the wing. These birds are insect-eaters, and adults may collect up to 5,000 insects a day to feed their nestlings. Vaux's (pronounced "voxes") Swifts roost communally by the thousand in hollow old-growth snags or chimneys. It is one of nature's spectacles to watch a massive swirling flock of swifts funnel into the narrow entrance of their nightly roost.
Birding Site of the Week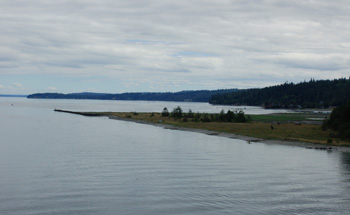 Marrowstone and Indian Islands provide marine, saltmarsh, and coniferous forest habitats. The shoreline is accessible at numerous locations, offering views of wintering waterbirds and migrating shorebirds. Resident songbirds can be found in the mature forests of Fort Flagler State Park, while a short walk to the shore can provide views of wintering Harlequin Ducks, Brant, Long-tailed Ducks, and Marbled Murrelets.
Get Involved with SAS

Seattle Audubon has numerous resources available to you.