BirdWeb: Seattle Audubon's Guide to the Birds of Washington State
Bird of the Week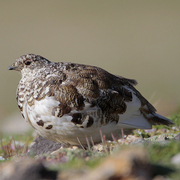 Ptarmigan acquire pure white feathers for camouflage during winter, including large white feathers on their feet - snowshoes! The snowshoes, which they have from September through April, increase the surface area of their feet, thus making it easier to walk on snow.
Birding Site of the Week
Look for Turkey Vultures in the Chehalis River Valley, an area dominated by agricultural land with numerous pockets of wetlands and riparian zones. Most birding can be done by car. Expect migrating songbirds and shorebirds, as well as returning wintering waterfowl.
Get Involved with SAS

Seattle Audubon has numerous resources available to you.