BirdWeb: Seattle Audubon's Guide to the Birds of Washington State
Bird of the Week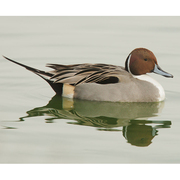 An elegant dabbling duck, the Northern Pintail can be found throughout North America, Europe, and Asia. This species is an early breeder, nesting as soon as the ice melts in the northern part of its range. Northern Pintails arrive at their wintering grounds early as well, where they flock by the thousands to feed on grains, seeds, and aquatic invertebrates.
Birding Site of the Week

Framed by Semiahmoo Spit to the west and Blaine to the east (and the Canadian border to the north), Drayton Harbor is one of the premier coastal birding sites in Washington. The variety of waterbirds in winter can be staggering, including three species of loons, all three scoter species, and Harlequin, Long-tailed, and Ruddy Ducks. The area also attracts larger wintering flocks of gulls and sandpipers, as well as some alcids.
Get Involved with SAS

Seattle Audubon has numerous resources available to you.